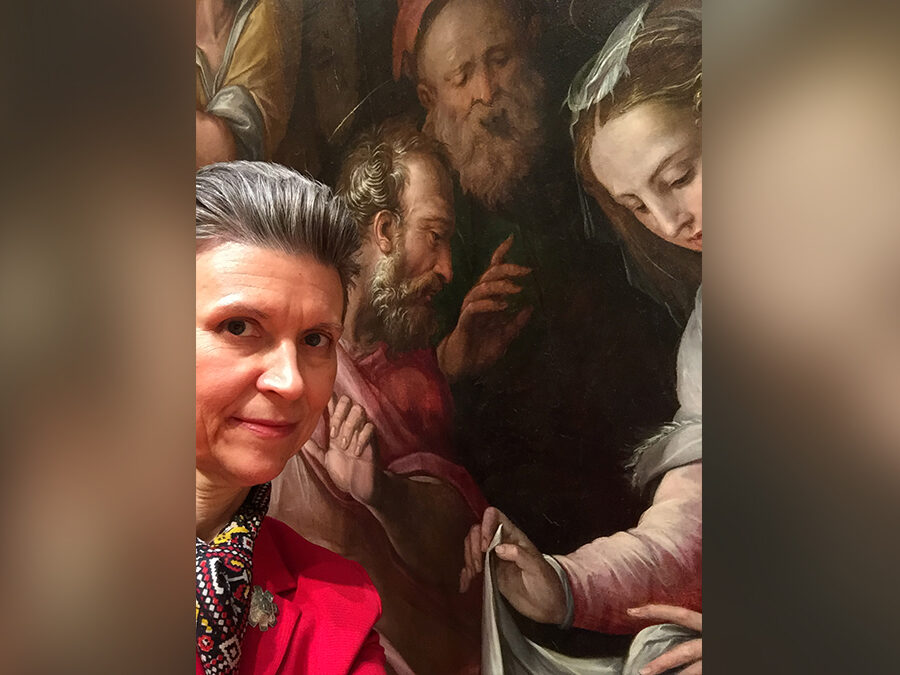 Curator of Paintings, Sculpture, and Decorative Arts
msaffiottidale@chazen.wisc.edu
What I do at the Chazen: I am responsible for the care, use, preservation, research, interpretation, display, access, and growth of the museum's collection of paintings, sculpture, and decorative arts. Working on temporary exhibitions in the Chazen Museum collection and from other museums or private collections is also part of my job.
When I started: December 1999.
Why I stay at the Chazen: Because I am passionate about museums and love sharing the stories of the works of art, which helps enrich people's lives.
My Chazen moment: discovering that Vasari changed his mind in painting the body of the Christ Child in the Adoration of the Shepherds.
What I love about the Chazen: The architecture, both the Harry Weese 1970 Elvehjem Building and the Machado-Silvetti 2011 addition.
My favorite artwork at the Chazen: It changes every day, but some favorites are Pisanello's medal of Lionello d'Este, Giorgio Vasari's Adoration of the Shepherds, 1570-1571, Claude-Joseph Vernet's Sunrise, 1759, and Johan Christian Dahl's Moonlight on the Coast, 1852.
My favorite work of art outside the Chazen: One of the paintings I grew up seeing and always love to revisit is Leonardo da Vinci's Portrait of Ginevra de' Benci at the National Gallery of Art in Washington, DC.
My favorite museum other than the Chazen: Very hard to pick one, but the Morgan Library & Museum, the Walters Art Museum, the Metropolitan Museum, the Museo Poldi Pezzoli, and the Castello Sforzesco Museums are among my favorites.