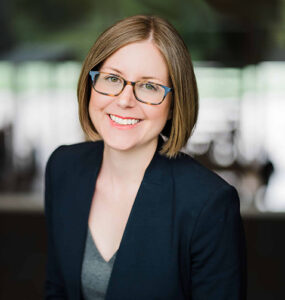 Madison, Wis. – Katherine D. Alcauskas has been named to a new position, Chief Curator, at the Chazen Museum of Art at the University of Wisconsin–Madison. She will begin her tenure on Sept. 23, and will be tasked with shaping the research, acquisition, management, display and interpretation of the museum's unique permanent collection. She will also oversee an active exhibitions program that includes both traveling and in-house curated projects of all sizes.
"We are thrilled that Ms. Alcauskas is joining the Chazen curatorial team," said Amy Gilman, director of the Chazen. "Her experience as a curator and leader in both large collecting institutions and academic galleries positions her perfectly to help develop our curatorial strategy. As we explore what it means to be a university museum in the 21st century, searching for new and innovative ways to showcase our collection alongside exciting temporary exhibitions, we look forward to her new perspectives about connecting our art to the UW–Madison community."
Under Dr. Gilman's leadership, Alcauskas and the Chazen curatorial team will explore new methods to deepen student, faculty and community engagement with art. Using the fundamentals of research and object-based study, they will use their expertise in fresh ways, experimenting in smaller galleries or with special projects to test new ideas before implementing them at museum-wide scale. Such experiments will inform plans to initiate a museum-wide reinstallation of the permanent collection.
Alcauskas received an M.A. in art history from Williams College, and has held curatorial positions at the Museum of Modern Art, Yale University Art Gallery and the Ruth and Elmer Wellin Museum of Art at Hamilton College. Her background in modern and contemporary works on paper is well suited to the Chazen, which is a repository for the renowned printmaking studio Tandem Press.
"I love the collaboration between students, faculty, museum staff and the larger community that a place like the Chazen strives for," said Alcauskas. "I look forward to finding new ways to explore and interpret the Chazen's collection, particularly with UW students. I'm also eager to invite contemporary artists, who are helping us have a dialogue about challenging moments in our history, to be part of the Chazen's ongoing conversations with our community."