The Chazen's publishing program includes exhibition catalogues, gallery guides, Artscene, and calendars, as well as podcasts and videos. Thanks to the UW–Madison Libraries, nearly everything published by the museum prior to 2014 has been digitized and is available online in the Digital Collection. There you'll find exhibition catalogues, gallery guides, annual reports, and newsletters; you can also read publications stretching back to the museum's earliest days.
Publications
Exhibition Catalogs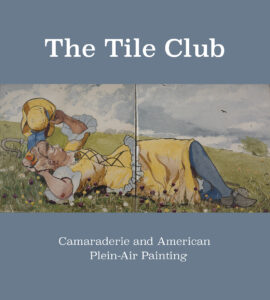 View The Tile Club: Camaraderie and American Plein-Air Painting online.
Exhibition dates: February 23 – May 20, 2018.
Multimedia
Podcasts
In the time of COVID, we want to give you access to as much of the Chazen as we can, so here is our pilot podcast episode, hosted by art historian and radio producer Gianofer Fields. This podcast chooses one artwork at the Chazen and investigates everything about it, taking advantage of the experts on campus.
Listen on itunes: Lady Caroline Montagu
Like what you hear? Send us your feedback.
Videos
The Chazen's video library includes an eclectic mix of lectures, virtual exhibitions, documentaries, and messages from the director. Most recently, the museum shared a virtual tour of The Museum of Everything by UW–Madison design school professor Jennifer Angus from the 2020 Faculty Show.