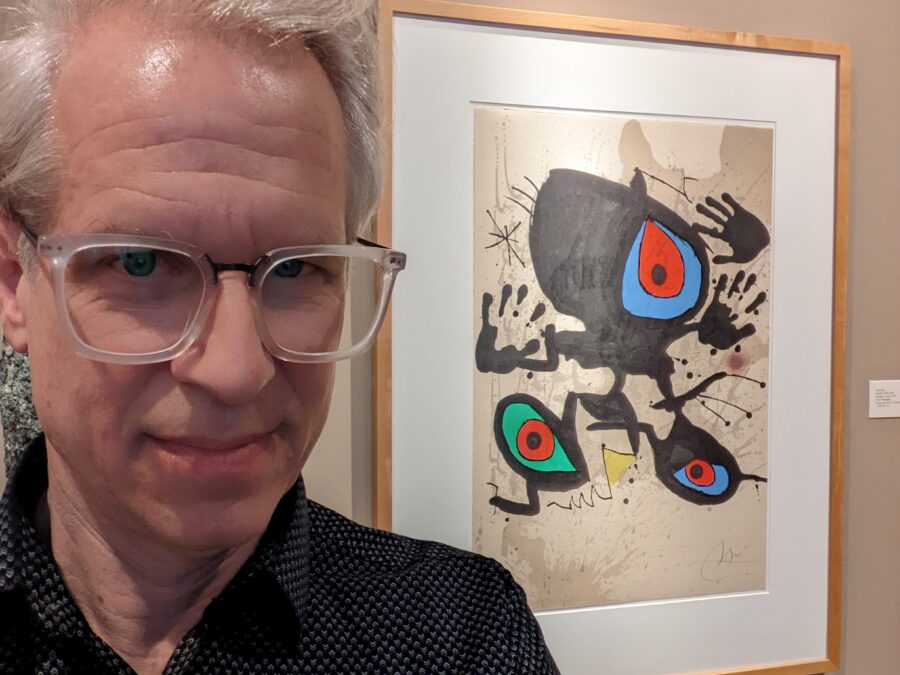 Communications Specialist
twilkowske@chazen.wisc.edu
When I started: May 23, 2022
Insider tips for visitors: Have an espresso in the café before you start. It's a bigger and deeper collection than you might think, you'll need the caffeine support to take it all in!
My Hometown: Waseca, Minnesota
Person I'd most like to meet at the Chazen: Prince.
On Saturdays you'll find me: Sleeping in a bit, going out for breakfast, thrifting, gardening, working on a home improvement project.
What I love about the Chazen: I love that a museum with works by some of my favorite artists ­– Calder, Magritte, Miro, Picasso – is free and open seven days a week.
My alma mater: University of Minnesota
My college major: Journalism/mass communication
My favorite Chazen gallery and why: The Therese and Alvin S. Lane Collection. These works take me back to my high school years when I was taking a lot of art classes and attempting to imitate the modern masters.
My favorite artwork at the Chazen: Homage to Miro by Joan Miro. You've got to love someone cheeky enough to make an homage to themselves. It's bold, abstract, playful, and pulls your attention from across the gallery.
My favorite work of art outside the Chazen:  Sunday Afternoon on the Island of La Grande Jatte, Georges Seurat (and not just because it's in Ferris Bueller's Day Off).
My favorite museum other than the Chazen: Toss-up between MOMA and the Art Institute of Chicago.
Last job before the Chazen: Senior writer at Ascendium Education Group
First job: Baling hay for a neighbor and de-tasseling sweet corn for Birdseye.
My hobby/pastime: I write, perform, record and remix music.
My creative outlet:  I'm reconnecting with my visual arts interest by working my way through Betty Edwards' Drawing on the Right Side of the Brain and Julia Cameron's The Artist's Way.
Most unusual job: Working in a train hobby shop in St. Paul, Minn. I was required to say "Welcome Aboard!" to customers when they came in.
Favorite color: Purple. Go Barney/Prince/Minnesota Vikings!