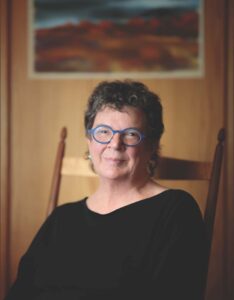 While the museum is closed, our docents have been leading us on "virtual tours," sharing some of their favorite works digitally. Ann Schaffer has been a docent for four years. She studied art history as an undergraduate and received her MFA in painting, and now takes art history classes as a senior guest auditor. 

Tell us about one of your tours.
"Women Artists Look at Women" is one of the tours I developed. I did it because most often it has been male artists using women as models. In this tour, I always include two pieces that are installed very close to each other. One is the sculpture by Xiang Jing entitled Are A Hundred Playing You? Or Only One? The other is a self-portrait by Susan Hauptman entitled Self-Portrait. I ask people to compare and contrast the two works.
Are A Hundred Playing You? Or Only One? depicts nude female figures sitting in a circle, bathing their feet in a pool. A pelican stands watch. Their heads are shaved; their bodies are slumped in weariness. They look down. The figures are highly detailed with a very fine gloss finish.
In Susan Hauptman's Self-Portrait the figure gazes directly at the viewer. Her face is very detailed; the body more stylized. She used charcoal and pastel on paper. The head is shaved.
Why do you include these pieces in your tours?
For me both of the pieces are emotionally engaging. They each have an air of mystery, a story to be told. They are both beautifully wrought.
I like to tell guests about the artists. Xiang Jing is a Chinese woman living in Beijing. She is renowned in China and internationally. She considers her pieces to be "performances of humanity." Are A Hundred Playing You? Or Only One? depicts individuals with imperfections, experiencing the warmth of each other's company and the footbath as well as their deep fatigue.
Susan Hauptman, who died in 2015, was based in New York City. She did portraits of herself, sometimes with her husband, often with a whimsical prop that contrasts with her serious expression. She often took three to four months to complete a portrait.
How do guests usually react to the pieces?
Guest find both pieces intriguing and emotionally engaging. They respond to the vulnerability of the nude bodies. They wonder about the shaved heads, which are so often associated with illness. The shaved head gives an androgynous look to the self-portrait and guests have wondered if the subject is transsexual.
They respond the mystery of both pieces and wonder what the pelican stands for. They enjoy the finely rendered textures in both pieces and sometimes feel challenged by the direct penetrating gaze in the Hauptman piece —what is she telling, asking them? We often discuss "Would it make a difference to you if if these artists were men?"
Is there anything you would like to say to readers in this difficult time about art and the solace it can provide, or about the Chazen in general? 
Art can be healing. This chaotic time invites us to make art, to look at art… to let it help us and change us.