For this virtual tour, we feature the selections of Joyce Bromley, who's been a docent at the Chazen for about 20 years—since it was the Elvehjem. She's spent quite a bit of time in art museums around the world and made an avocation of art history, leading her to the position at the Chazen. She includes three of the museum's most well-known portraits in her regular tours.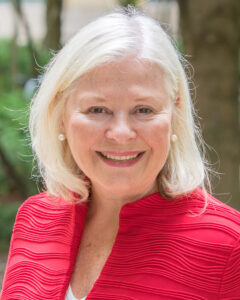 Do you have a background in art history?
I have two degrees in history and a certificate in medieval history, which included art history courses. I found that my history background lends itself well to the themes and established settings in artwork.
When you're conducting a tour of the permanent galleries, which pieces do you show your guests?
Young Woman in Black, c. 1910, by Homer Boss, American; The Shawl, c. 1900, by Charles Sprague Pearce, American (working in Paris); and Portrait of Lady Caroline Montagu in Byronic Costume, 1831 by George Hayter, English
Why do you include these particular pieces in your tours? 
I enjoy including these full-length portraits because they are stylistically so very different from one another. They provide opportunities to analyze how an artist's style affects a viewer.
What do you usually tell guests about these pieces?
When we're examining Young Woman in Black, we start with a discussion of the artist. Homer Boss is well known for his landscape paintings, which makes the Young Woman in Black such a treasure. Let's look at this young woman closely. First, we need to ask, is she a typical figure of someone who would have a portrait painted? We know that Boss moved from Springfield, Massachusetts to New York City around 1900 to pursue art training. During this period thousands of immigrants were arriving from Europe. Other than immigrants from Great Britain, most of them did not speak English.  Each nationality established enclaves where they spoke their language and shared and celebrated a similar culture.
The subject of this portrait is likely one of those immigrants. Is she posing for the artist, or has the artist captured her while she attends a special event? She has taken the effort to dress up and the artist has been "economical" in his style. He used wide brush strokes on her dress, and only the detail of her white embroidered camisole with gathered sleeves show any fine brush strokes. Her hair is pulled back and she wears a simple, but lovely necklace, and her bright red lipstick is a defining detail that cannot be ignored. Does she look like she is having a good time?  Does she hope not to be noticed?
By looking more carefully, the shadow behind her is close to the figure. Her feet are close to the wall. We come to realize that she is leaning against the wall. She is tired! Look at her hands and her arms—they are muscularly developed by hard labor.
Boss's Young Woman in Black is a beautiful representation of what makes America.
Charles Sprague Pearce's The Shawl offers a stark contrast to Boss's Young Woman in Black. Pearce was born in Boston, Massachusetts and, at 22 years old, moved to Paris to study art. Initially the portrait of Mrs. Pearce (his model) is a breath of fresh air, as Pearce captures her walking through a garden or at the edge of a forest. The sun seems to fall on her alone and reflects on her yellow dress. But when we look closer, we discover a puzzle and the breath of fresh air becomes less refreshing. We might ask, what is the purpose of this portrait?
Everything is elegant, but the posturing is vain—even narcissistic. What did the artist wish to capture? In this setting, she has a walking stick, but we do not see a path. A thistle behind the figure balances the verticality of the walking stick. Or is the thistle a message of her personality? The dress has a French influence, but an empire dress is more representative of the Napoleonic period, 100 years earlier. The shawl with its border is luxurious, but it does not drape in an elegant manner; instead, it is tightly controlled.
Was the artist exhibiting his artistry with his wife as the model? Her hat alone is representative of many different artistic techniques. The wide brushstrokes make the feathers appear so light that they flutter in the breeze. The straw hat—its crown and brim—is created by fine brush strokes that give the appearance of a sturdy structure that can support the feathers and the soft, blue-ribbon band.
Her hands are elegantly posed, and her left hand reveals a gold wedding band. The artist used long, thin brush strokes of various pastels to make the dress appear soft and even to shimmer. In contrast, that elbow! The sharpness of her elbow appears to pierce the very surface of the canvas—what an attitude! Although she is very beautiful, you have to decide if she is more of a "character" than a wife you would wish to come home to each evening.
The final portrait on this tour is George Hayter's Portrait of Lady Caroline Montagu in Byronic Costume. Hayter was a well-established portrait painter whom Queen Victoria appointed as her court's portraitist. Hayter, like Pearce, has created a setting. You have to ask, if you were to have a portrait painted of yourself, would it not be fun to be a character of Lord Byron—one of the most notorious Romantic poets of his time?
Hayter captured Byron's romantic element in this portrait of Lady Caroline Montagu, who is presented in a Byronic gypsy costume positioned on a rock that does not appear to be a natural part of the landscape. Lady Caroline neither appears to need protection from the male gypsies walking in the distance on the sand dunes, nor do they appear to present a threat to her.
The artist has controlled every line of Lady Caroline. She is totally seductive and commands our complete attention. She is elegantly accessorized with rings, necklaces, bracelets, a beautiful ribbon sash and jeweled shoes with silver buckles. The colors Hayter chose for her attire are clear jewel colors—emerald green, ruby red, sapphire blue, topaz yellow—and gold. Everything is perfectly fresh and hardly the attire for a hike in the mountains.
She carries a knife in her belt. Who would dare approach her? The chest of treasures presents a puzzle — is she protecting the pearls, coral, gold and silk that rightly belong to her, or has she stolen them?
In summary, these uniquely presented subjects allow us to look carefully to find personalities in them; that is, to discover techniques each of the artists used to pique his interests—and our curiosity.
How do guests typically react to your must-sees? 
Artwork reveals a story and guests to the museum are intrigued to help uncover it.
Is there anything you'd like to pass along to readers in this difficult time about art and the solace it can provide, or about the Chazen in general?
The ability for docents to continue to extend themselves to the public about art allows us to continue what we are (not what we do). Nothing can replace live visits and a guest's reactions to art, but until we can meet again, let us keep art alive in our minds and hearts. The Chazen invites the viewer to virtually escape from the confines of their homes to different times and places in art.