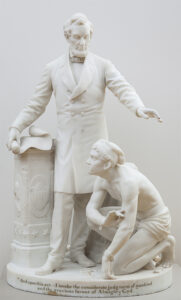 re:mancipation is a collaborative project that has undertaken a two-year study of Emancipation Group and its complex history, while cultivating a more nuanced understanding of our nation and ourselves. In the spring semester of 2023, the Chazen Museum of Art, artist Sanford Biggers, and MASK Consortium will debut the results of this intense examination as an exhibition, documentary, and website that will provide audiences with an intimate look at the project's directive to address social justice and equity through artistic interpretation. re:mancipation encompasses the reimagining of the Chazen's problematic Thomas Ball sculpture Emancipation Group, the repositioning of additional objects in the museum's collection, creation of a new artwork by Biggers, as well as new research, archival, and educational material.
Emancipation Group is a marble sculpture that has been in the Chazen Museum of Art collection since 1976. The sculpture depicts Abraham Lincoln standing over a kneeling freedman. A large bronze version is in Lincoln Park in Washington, D.C. , and one was recently removed from public space in Boston. Biggers is known for engaging a wide range of artists, disciplines, and techniques in his extraordinary body of work. He believes that the Chazen, a university art museum with a diverse set of audiences on a large Big Ten campus, is the ideal partner for this interrogative project. Over the last several years the Chazen has developed a reputation for activating innovative new approaches to its collection, exhibition programming and outreach. One of the key elements of this approach is to partner with contemporary artists to better illuminate and understand, in new context, historical works in the Chazen collection. This project will be the most significant realization of this approach to date.
About the Artist: Sanford Biggers' work is an interplay of narrative, perspective and history that speaks to current social, political and economic happenings while also examining the contexts that bore them.  Biggers (b. 1970) was raised in Los Angeles and currently lives and works in New York City. He was awarded the 2017 Rome Prize in Visual Arts. He has had solo exhibitions at the Contemporary Art Museum St. Louis (2018), the Museum of Contemporary Art Detroit (2016), the Massachusetts Museum of Contemporary Art (2012) and the Brooklyn Museum (2011), among others. His work has been shown in several institutional group exhibitions including at the Menil Collection (2008) and the Tate Modern (2007), and also recent exhibitions at the Metropolitan Museum of Art (2017) and the Barnes Foundation (2017). Biggers' work is held in the permanent collections of the Museum of Modern Art, New York; the Metropolitan Museum of Art, New York; the Whitney Museum of American Art, New York; the Museum of Contemporary Art, Chicago; the Walker Art Center, Minneapolis; the National Museum of African American History and Culture, Washington D.C.; the Dallas Museum of Art, Dallas; and the EJI (Equal Justice Initiative) Legacy Museum, Montgomery, among others. Biggers' exhibition BAM! was on view at the Chazen June 28–September 22, 2019.

About MASK Consortium: MASK Consortium is a coalition of museums and educational institutions sharing knowledge. Its mission is to develop and promote a more complete understanding of human history and culture through the digital preservation of art and other cultural artifacts via 3D, 360-degree, VR capture. MASK develops curricula and programming for events, conferences and symposia around said works of art. Moreover, they work to create strategic partnerships with museums, universities, state and local government, as well as corporations and individuals who share their goal of fostering connection and expanding knowledge through the preservation and exhibition of art. 
MASK Consortium Founding Partners:
Sanford Biggers  first received critical attention when his collaborative work with David Ellis, Mandala of the B-Bodhisattva II, was included in the exhibition Freestyle, curated by Thelma Golden at the Studio Museum of Harlem in 2001. Since then, his works have been presented internationally including at the Tate Modern in London, the Renaissance Society in Chicago, Prospect 1 in New Orleans and the Whitney Biennial, The Kitchen, and Performa 07 (curated by Roselee Goldberg) in New York. Mr. Biggers is affiliate faculty member at Virginia Commonwealth University's department of Sculpture + Extended Media and was a visiting scholar at Harvard University's VES Department in 2009. He was previously an assistant professor at Columbia University's Visual Arts program.
Mark Hines is the founder and creator of the live streaming platform, Virtual Live Experiences (VLE). He has also served as Vice President of Creative Technology at Russell Simmons' 360HipHop.com where he was instrumental in the conceptualization and development of the new media platform. Upon BET.com's acquisition of the startup, Hines was appointed Vice President of Strategy where he was directly responsible for initiating a diverse range of innovative projects including the conception and implementation of music strategies, interactive programming and creative technology. From 1994 to 1999, Hines worked at JP Morgan where he specialized in the development of unique technology applications that provided the bank with its competitive edge. While at JP Morgan, Hines maintained a music production company, Poisoned Ivy Entertainment, which did work for several major labels including Warner Brothers, MCA, Columbia and Def Jam, for which he received a gold record for the Belly soundtrack. Hines' formal discipline is computer science which he studied with a concentration in music at Princeton University where he received his BA.
Alicia H. Hines is the owner and operator of likkle jamaican dumpling house & library, a restaurant, community lending library and cultural destination in Brooklyn, New York. Hines, a Mellon Minority Undergraduate Fellow, received her degree in English literature from Princeton University in 1995 and a Master of Arts in American studies from New York University in 1999.  Hines taught English and was an academic dean at Horace Mann School in the Bronx for more than 15 years. She writes about race, gender, public space, literature and art. Hines, with Dr. Alondra Nelson (president of the Social Science Research Council, Center for Advanced Study) and Thuy Nguyen Tu (associate professor of Social and Cultural Analysis at NYU) is the co-editor of a collection of essays on race and technology, titled Technicolor: Race, Technology, and Everyday Life, published by NYU Press.
Arana Hankin  has over a decade of experience overseeing large-scale planning and real estate development projects. With a background in economic development and arts policy, she has served as the director of the Atlantic Yards Project and the president of the Queens West Development Corporation for New York State Empire State Development. Hankin has led multi-disciplinary capital projects in government, not-for-profits, start-ups and for private real estate developers working as a senior executive and consultant at HR&A Advisors, WeWork, Lela Goren Group, Sugar Hill Capital Partners and the New York Urban League. Passionate about creative placemaking and cultural capital projects, Hankin has successfully negotiated inclusive partnerships across all sectors ensuring economic opportunities for community partners. She has implemented transformative operational initiatives to streamline production, reduce project budgets and improve equity, most recently serving as the interim COO of BRIC Arts while advising on capital expansion strategies. Hankin received a Bachelor of Arts from Howard University, a Master of Arts from Stanford University and was a Loeb Fellow at the Graduate School of Design at Harvard University.
Eric Edwards, Cultural Museum of African Art, has spent more than half of his life amassing one of the largest African artifacts collections ever held privately, comprising approximately 3,000 items, which encompasses the 54 countries of Africa. His collection includes authentic pieces from African royalty, male and female secret societies, spiritual and ritual masks, ancestral figures, weapons, jewelry, reliquary pieces, adornment, musical instruments, fetish pieces, as well as utilitarian items of everyday life. He has held educational symposiums, seminars for children and personal exhibits to educate people of African ancestry and the diaspora of their heritage, that include tremendous contributions to the world dating back more than 4,000 years of human history. Edwards' purpose is to educate through the stories told by each of the artifacts within his collection, detailing the cultural and technical gifts, skills, value systems and artistry. Currently, items from Edwards' African art collection are on display at the Metropolitan Museum of Art. His goal is to ultimately create the Cultural Museum of African Art which will house his entire collection.
Edward Gajadar, Cultural Museum of African Art, Foundational Member, was born in New York City. He grew up in Hell's Kitchen, Chelsea, The Lower East Side and The South Bronx. As a first-year undergraduate student, he attended Lehman College (CUNY), then transferred to St. John's University, where he completed his Bachelor of Arts degree in government and politics. Upon graduation, Eddie took an administrative position with St. John's University, where he worked in the Office of Student Advising, Development and Retention. It was in this role that he became educated in terms of the inner workings of the university, as he learned from the directors of admission, registrar, bursar and financial aid. Passionate about helping others, this position was a natural fit. With the encouragement from family and friends, Eddie decided to attend law school. In the fall of 1998, he began his legal studies at St. John's University School of Law, graduating in June of 2002. Eddie's professional career has included working for the NYC Dept. of Education as a teacher (4th grade), the NYC Police Dept. as a police officer, chief of staff for a US Congressional candidate and strategic project manager for the Cultural Museum of African Art.
Guy Routte, SCHMTCS, Foundational Member
At the start of 2020, Routte rebirthed Schematics Industries, a multimedia operation with one simple goal: He wants "to build and create the blueprint for the type of content and media I want to see in the world." On its plate are narrative films, documentaries and series, both web and TV, some that he'll be writing and directing, including a docuseries about touring artists, that, in the time of coronavirus, has become even more relevant. Expect his signature on fine art projects, along with nontraditional record releases that incorporate striking visual content and presentations. Routte has shrewdly helped craft deals and shape careers of artists like rhyme whiz Pharoahe Monch, hometown protégé rapper/actor Shyheim, funk outfit The Family Stand, Living Colour frontman Corey Glover, R&B group Goodfellas and songbird Sara Devine, who he got signed to Columbia Records, where he served as senior A&R consultant. There, projects by Raphael Saadiq and Consequence fell under his watchful eye.