From the earliest European encounters with the Americas, artists have been fascinated with representing its plains, rivers, forests, and mountains. This exhibition introduces some of the ways artists have utilized nature and portrayed Wisconsin and the United States through an environmental lens.
To people of European descent, America seemed to be an untouched wilderness with endless natural resources and the potential for agricultural development. Artists captured its open landscapes and celebrated beautiful views, reinforcing the myth of untouched nature available for settlement. To their eyes, the land had not been developed to its full potential by Indigenous Americans. In fact, Indigenous Americans had shaped and modified the natural world for centuries. Their influence on local ecosystems and methods of cultivating crops were often unfamiliar to or ignored by Europeans.
Settlers quickly began manipulating the land to develop farms and extract natural resources, such as silver and lumber. Artists engaged with these endeavors, representing farms, harvests, and technological innovations that aided extraction and the trade of agricultural products. However, the desire to control the environment put many beloved landscapes and animals at risk. The visual and natural history of Wisconsin's prairies, forests, farms, and waterways tells a national story of a revered environment in crisis after centuries of environmental manipulation.
But while many artists celebrated the settlement of America, others lamented the ecological changes and destruction that resulted. These artists used art to inspire conservation and environmental activism.
Through all these changes, Wisconsin's landscape endures. The ongoing efforts of tribal communities and conservationists to preserve the land, water, and resources—locally and nationally—will ensure that American artists can continue to engage with nature for generations.
Generous support for this exhibition is provided by the Irving & Dorothy Levy Family Foundation

Artist Info
Truman Lowe
b. 1944, American, Ho–Chunk
d. 2019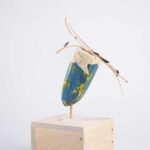 Grant Wood
b. 1891, American
d. 1942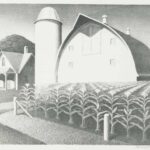 Lloyd Scarseth
b. 1906, American
d. 1984)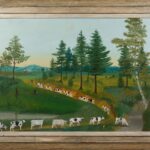 Programming & Financial Support
Resource & Ruin is made possible in part by generous support of the Irving & Dorothy Levy Family Foundation.