In-person tours are on pause during the pandemic.
Until it's safe to gather in groups, please visit solo or with a friend or two. Enjoy a self-guided tour, or just visit your favorite artwork. See the visitor guide to learn how to visit virtually or in person.
A variety of group tours will resume when it's safe.
K–12
Most group tours of the Chazen Museum of Art last one hour. Students will see five to seven works of art, and are encouraged to ask questions and have discussions about the art. Themed tours such as The Art of Sustainability and Chazen Highlights are available. Docent-led tours are free of charge, but must be arranged at least four weeks in advance.
Campus
Guided tours may be arranged for UW classes or other groups. A faculty member may lead the tour personally, make arrangements with a colleague or a museum curator, or use one of the museum's specially trained volunteers. Volunteer docents will give tours of either the permanent collection or temporary exhibitions in English, French, German, or Spanish. Classes from outside the UW System are also welcome.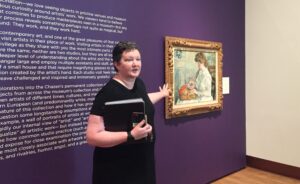 Everyone
Drop-in guided tours of the museum's exhibitions are regularly available. Tours leave from the lobby of the Chazen building. Generally,  tours focus on temporary exhibitions or highlights of the permanent collection. Tours can be tailored to the interests of the group. Please drop in!