This is an accordion element with a series of buttons that open and close related content panels.
How do I read the labels in the gallery?
Every artwork on view has a label that provides basic information. Here's how to read it: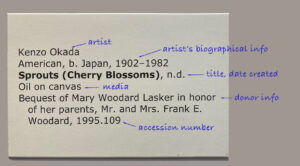 The first line shows the artist's name if it is known.
The second line shows the artist's nationality and/or origin, and life dates.
Next is the title of the artwork and the year it was made, if known. In this example, "n.d." means "no date.".
Media tells you what the art is made of, whether its a painting, sculpture, photograph, or something else.
Donor information shows how the artwork became part of the collection; it may have been a gift from a donor, or it may have been purchased with donated funds. Public funds are never used to purchase artwork.
The accession number is a unique number which the museum uses to catalogue the artwork. The number usually starts with a year, and that tells you which year the artwork entered the collection. In this example, the painting was donated to the museum in 1995.
What are your hours?
Our current hours are posted at the bottom of the page in the footer. Just scroll down.
Where can I put my stuff? Do you have lockers?
Yes! Please stash backpacks and other large bags or parcels in the lockers.
How large of a group can I bring to the museum?
We are no longer limiting the size of groups due to Covid, however, we ask that you let us know if your group will be larger than 20 people, so we can be sure we are able to accommodate you.
What if someone starts to feel sick while at the museum?
If someone feels sick while  at the museum, please let a Visitor Services Assistant know. If necessary, security staff for the museum will call for an ambulance. If the person feels well enough to travel home, we will encourage them to leave as soon as they begin to feel ill.
Can I put donations in the box when I arrive?
We would be delighted if you would consider a donation to the museum. Feel free to deposit cash or checks in the donation boxes. And you can always make a donation of any amount online.
Can I just come in, or do I need a ticket?
Come on in! No ticket required at this time. And we never charge admission.
Do you offer audio tours?
We don't offer audio tours.
How long can I stay?
You can stay as long as you'd like to during open hours.
Can I become a member/how can I support the museum?
If you're able, please consider making a monetary gift. A gift of any size qualifies you for membership benefits. Here's the website . And, you can support the museum by visiting often and bringing friends!
What type of COVID-19 training has the staff completed?
The staff has all been updated on disinfection standards, occupancy limits, and what to do if someone becomes ill at the museum.